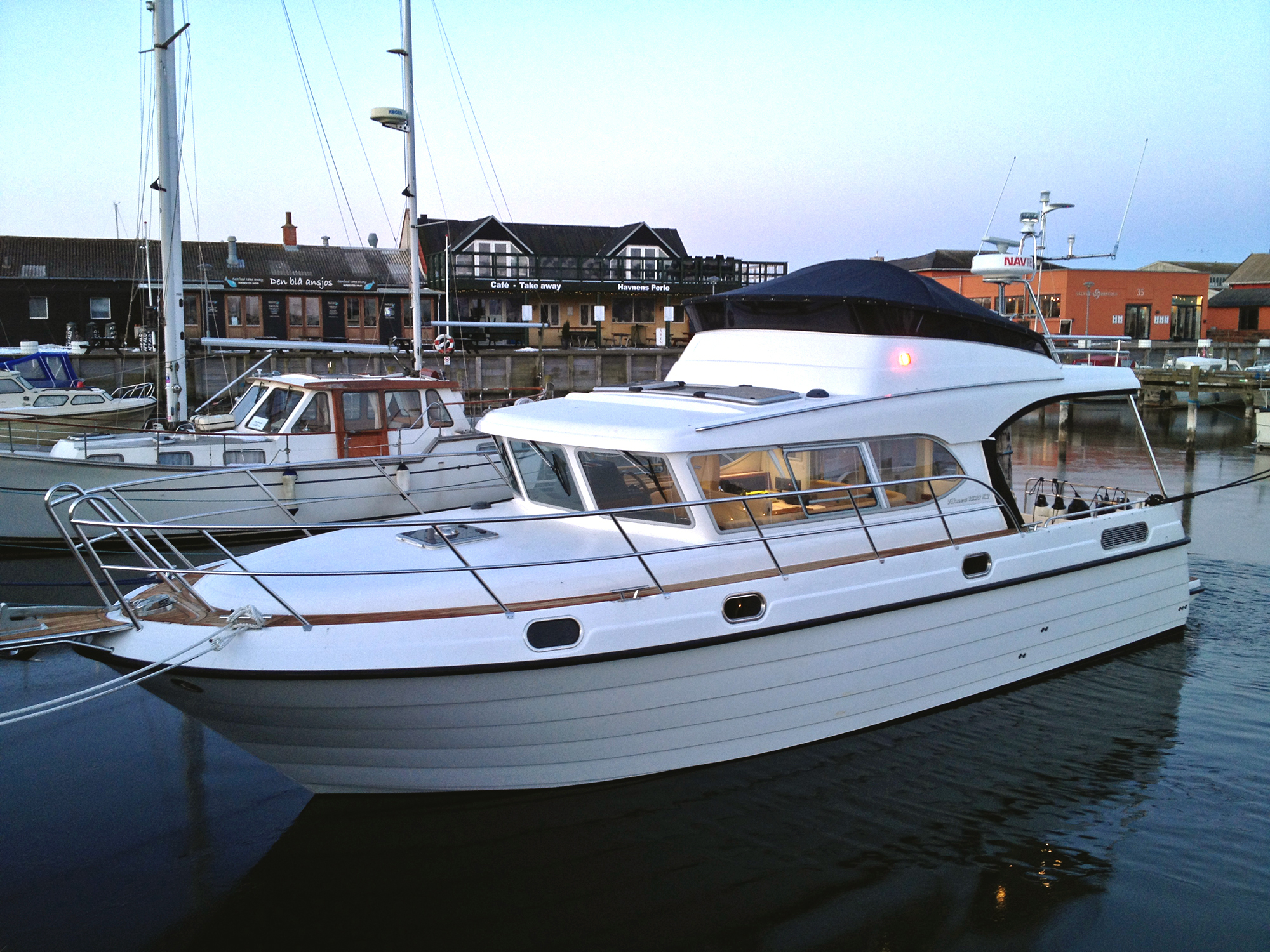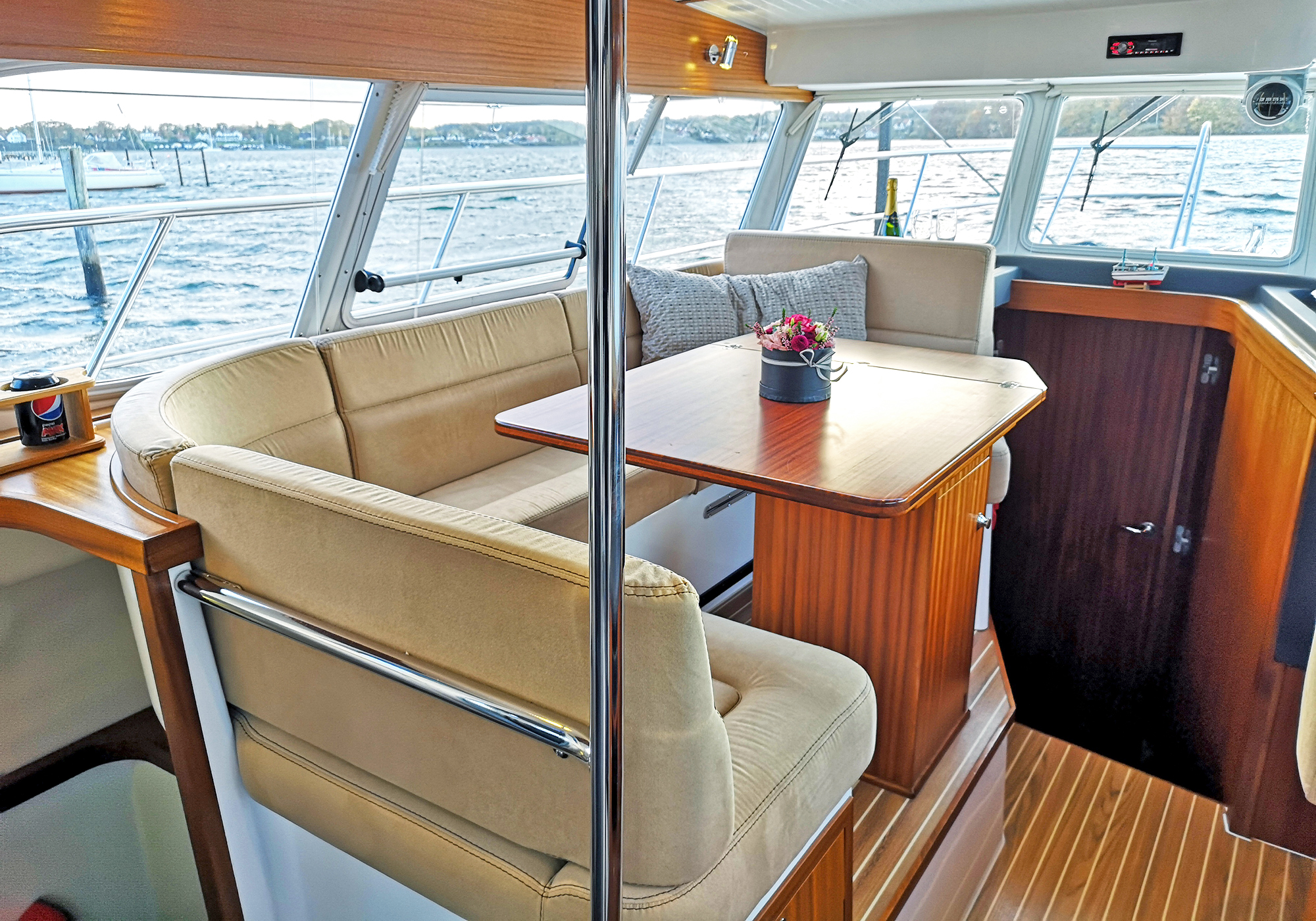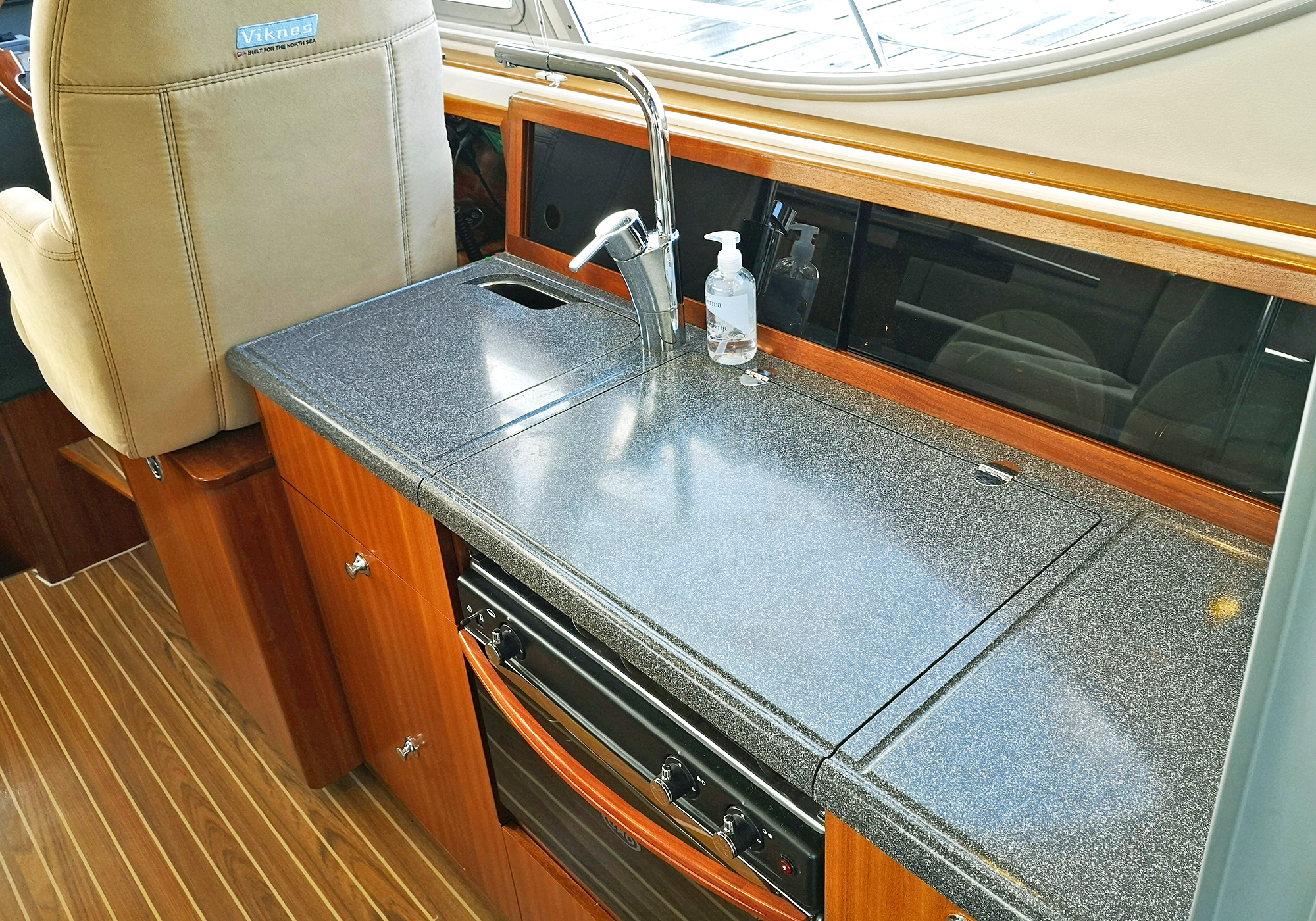 Builder
Dimensions
Material
Year
Engine(s)
HP/Kw
Length
Beam
Draft
Deplacement
Location
Price


Viknes Norge


11,46 x 3,42 x 1,00 m


GRP


2013
Yanmar 8LV-370 – 815 Timer/hrs
370 HK


11,46 m


3,42 m
1,00 m


6.500

kg Dry




Skagen, Denmark


DKK 1.895.000

(Vat paid)
DK:
Reduceret pris !
Meget velholdt Viknes 1030 K-3 Sunbridge. Praktisk bådebyggeri i høj kvalitet fra Norske Viknes. Stort og fleksibelt agterdæk med overdækning velegnet til ophold/hygge eller fiskeri, badeplatform, Sundbridge/Flybridge med solseng. Dejlig salon med U-Sofa og praktisk sæde i bagbord der elektrisk kan skydes frem/tilbage og være enten en del af sofa arrangement, eller fremadvendt siddeplads. Midtskibs kahyt med dobbeltkøje, bagbord kahyt med enkeltkøje, og dejlig forward cabin/owners cabin foran med stor dobbelt køje. Skønt lysindfald og udsyn ombord i dæksalonen og via skylights i taget med skyde/vippe mulighed. Fint pantry med gaskomfur, vask, køleskab.
Stærk og pålidelig Yanmar V8 Diesel motor med skrueaksel, forstærket køl/skrog (Sjark), bov og hæk propel. Navigations udstyr i en klasse for sig, herunder AIS Class A, VHF, Plotter, Autopilot. Se den meget omfattende udstyrs liste for flere detaljer.
Båden kan ses i Skagen, hvor fremvisning kan arrangeres.
Very well maintained Viknes 1030 K-3 Sunbridge. Practical boat building in high quality from Viknes. Large and flexible aft deck with cover suitable for living/relaxing or fishing, bathing platform, Sundbridge/Flybridge with sunbed. Lovely salon with U-Sofa and practical seat on the port side that can be electrically pushed forwards/backwards and be either part of a sofa arrangement, or a forward-facing seating area. Midships cabin with double berth, port cabin with single berth, and lovely forward cabin/owners cabin forward with large double berth. Great interior light and view on board in the deck saloon and via skylights in the roof with sliding/tilting option. Pantry with gas stove, sink, refrigerator.
Strong and reliable Yanmar V8 Diesel engine with shaft, reinforced keel/hull (Sjark), bow and stern propeller. Navigation equipment in a class of its own, including AIS Class A, VHF, Plotter, Autopilot. See the very extensive equipment list for more details.
The boat can be seen in Skagen where a viewing can be arranged.